Schedule a Tarot Reading
Seeking a little more insight into your life? Confia Collective has mystical readings that will guide relationships, careers, location, and connection through astrology, pendulums, tarot, and oracle cards. Our readers are intuitive and psychics that receive messages from your spirit guides and often loved ones that have passed over. We invite you in for truth and healing.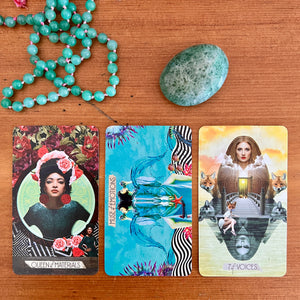 Intuitive Readings with Donielle
Do you have important issues you are facing? Need clear answers? Let's answer your questions using dowsing, cards (oracle/tarot), clairvoyance and powerful insights. My training and experience with the tools of dowsing, card reading, intuitive/psychic, medium and energy work can facilitate an experience of reconnecting to your soul, soul passions, and inspired actions. Using these tools, we can work to he help you, as a Being, reconnect with your soul & divine guidance.
Tarot + Astrology with Angela
Intuitive tarot provides a safe, emotional, spiritual, and intellectual space to understand your true self. Unveiling truth & trusting intuition starts with you. Each session begins with a short energy reading and flows into a brief intro to your birth chart allowing a more personal experience with the tarot cards. The cards' message is based on your needs that arise at the moment. In closing, you will be provided with integration tips in order to process.
Spirit Guided Readings with Lindsay
Equal parts sass and spirituality, with a dash of well-timed humor, Lindsay comes in with a direct and compassionate approach when it comes to reading Tarot. She works with her spiritual team of guides as well as those of her Client to arrive at what needs to be shared. It's always delivered with kindness, love, and an actionable task you can choose to implement before your next reading with her.
Intuitive Health Readings with Ransom
Ransom is a multidimensional healer. Reiki Master Teacher. When in a reading, Ransom invites the client into a psychic space where she is able to receive messages from ancestors, spirit guides, and universal healing energy. Providing clarity, confirmation, and understanding on what the client needs.